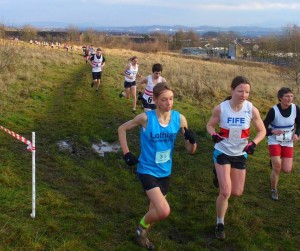 Chloe strides on.
EAST DISTRICT XC LEAGUE [BROXBURN]
The final match of the 2012/13 East District Cross Country League took place over a muddy course at Broxburn on Saturday.
Lothian Running Club fielded 18 runners over the various age category's.
The club's most notable performance came in he Senior Women's race where Edel Mooney produced another fine run to come home a clear winner, covering the 5.8km course in 22 minutes 07 seconds, some 23 seconds ahead of her nearest pursuer Gill Palmer, Edinburgh AC.
And with her club mates Chloe Cox and Sarah Inglis finishing well up in 9th and 11th places respectively the Lothian ladies took second place in the team competition on the day behind Central AC.
Completing the club's representation in the Women's race were 51st Lynne Murray and 57th Christine MacVarish.
In the combined Senior/Junior men's race, Max McNeil followed up his eye catching run at the previous week's Inter-District Championship with another good performance at Broxburn placing 12th overall and 2nd Junior Under-20. Max completed the 8.7km course in 31 minutes 08 seconds. The next club finisher's were 113th Kenton Jones, 148th Alan Moffat, 155th Scott Nelson, 157th Stephen Malcolm, 163rd David Eades, 196th Jim Alexander and 209th Kenny Mearns.
In the combined Under-17/ under-15 girls race Keri Greig and Bethany Nelson finished 17th and 36th respectively.
In the younger age-groups, Louis McDonald was 52nd in the Boy's Under-11 race with Erin McComiskey 20th in the Girl's equivalent.
In the Girl's Under-13 contest Mairi Eades finished in 50th position.
RESULTS
UNDER-11 BOYS[1.6KM]
52nd Louis McDonald[8m 00s].
74 Completed
UNDER-11 GIRLS[1.6KM]
20th Erin McComiskey[8m 12s]
45 Completed
UNDER-13 GIRLS[2.9KM]
50th Mairi Eades [16m 09s]
52 Completed.
UNDER-15/UNDER-17 GIRLS[4KM]
17th Keri Greig [17m 58s]
36th Bethany Nelson [20m 53s]
44 Completed
SENIOR WOMEN[5.8KM]
1st Edel Mooney [22m 07s]
9th Chloe Cox [23m 49s]
11th Sarah Inglis [23m 56s]
51st Lynne Murray [28m 09s]
57th Christine McVarish [28m 27s]
Team: Lothian 2nd.
93 Completed.
SENIOR/JUNIOR MEN[8.7km]
12th & 2nd U-20 Max McNeil [31m 08s]
113th Kenton Jones [38.00]
148th Alan Moffat [40.10]
155th Scott Nelson [40.30]
157th Stephen Malcolm [40.34]
163rd David Eades [40. 42]
196th Jim Alexander [44.01]
209th Kenny Mearns [45.46]
Team: Lothian 14th, Lothian Masters 8th.
226 Completed.