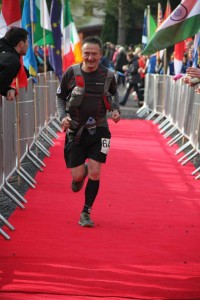 Lothian Running Club veteran  Alan Robertson spent an exhausting weekend taking part in the gruelling West Highland Way Race where he turned in his best ever performance.
Alan not only recorded a PB but was also the first runner to finish in the M60 category.
Essentially the object of the West Highland Way Race is simple. You start at Milngavie Railway Station (7 miles north of Glasgow) at 1am on Saturday & run/jog/walk to Fort William Leisure Centre by noon on the Sunday with 35 hours to cover 95 miles including 14,760ft of ascent.
Alan has contested the race before so he knew what was ahead of him and after 24 hours 31 minutes and 57 seconds he crossed the finish line in 77th place and 1st in the over-60 age category with his time well inside his previous best of 25 hours 15 minutes and 55 seconds.
A total of 157 runners finished within the 35-hour race time limit.