The ladies of Lothian Running Club made club history on Sunday when the quartet of Yvonne Crilley, Edel Mooney,Jo Williams and Sarah Inglis became the first team from the club to win a title at the National Road Relay Championships.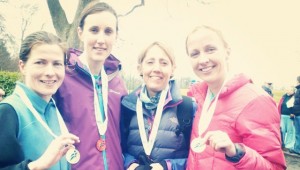 Despite the event having been held on their doorstep at Almondvale, Livingston since 1999 the closest the ladies had come to claiming the coveted title was silver medals in both 2006 and 2009 and bronze in 2013.
That all changed on Sunday as the blue vests stormed to victory in one of the most thrilling races in recent times which saw a handful of clubs still in contention at the final leg change-over.
Yvonne Crilley was first away for LRC in the first of the 3.1 mile short legs, a steady run saw her hand over to Edel Mooney in 14th place, Edel set off on the 5.8 miles 2nd leg and was soon overhauling her rivals and when she handed over to Jo Williams to run leg 3 the team had moved up to a challenging 8th place. Jo went on to produce one of the quickest short leg runs of the day and when she passed the baton on to Sarah Inglis to run the anchor leg the team were now in 4th place behind Fife AC, Hunters Bog Trotters and Edinburgh AC.
When Sarah-who has just returned to Scotland following an excellent season indoors in Canada – set off she was 43 seconds behind the leading runner, so an exceptional run was required and that's what she produced, despite the far from ideal conditions of wind and rain on the most exposed part of the circuit Sarah was soon in front and went on to record the quickest long leg of the day by 65 seconds and the 2nd fastest ever in the history of the race.
As she powered towards the finish line she was cheered home by a very vociferous home crowd and team mates who were preparing to celebrate a momentous day for the club.
Following the Lothian team home were Fife AC who were runners up for the second successive year, Inverness Harriers who were making their debut at the event in third with Central AC the previous years winners in fourth. The Lothian ladies B team finished 13th. The club's men also fielded two teams finishing 24th and 46th respectively. The men's title went to the team from Kilbarchan AAC with Central AC runners up and Ron Hill Cambuslang 3rd.
Full LRC results.
 Senior Women:Lothian [a] 1st – Leg 1 Yvonne Crilley[20.08],Leg 2 Edel Mooney[34.55],Leg 3 Jo Williams[18.50], Leg 4 Sarah Inglis[32.36]. Total time-1:46.29.
Lothian[b13th – Lana Turnbull[20.52],Jocelyn Moar[38.00],Mhairi Inglis[21.23],Christie Milne[40.31]2:00.46].
Lothian[c] incomplete, Kirsty McMeechan[27.34],Christine MacVarish[36.02]. 29 full teams ran.
Senior Men:Lothian[a]24th – Malcolm Lang[17.44],Daniel McLughlin[35.36],Alan Moffat[19.05],Andrew King[35.16], Pol McDonald[19.49],Colin Partridge[33.49].Total time:2:41.19.
Lothian[b]46th – Neil Graham[22.10],Colin Wishart[43.43],Calum Ross[21.24],Scott Nelson[37.54],Martin Leadbetter[23.07],Finlay Slane[40.06].Total time;3:01.06]. 48 full teams ran.
Report by Shane Fenton