Lothian Running Club's Sarah Inglis was the overall winner on Saturday of a race that is recognised by the Guiness Book of Records as the oldest footrace in the World.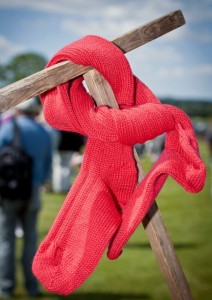 The Carnwath Red Hose Race dates back to 1508.
The race which is now run in conjunction with the Carnwath Agricultural Show still sees the race champion being presented with the traditional pair of Red Hose.
Unfortunately though for Sarah, to win the prize you must reside within the Parish of South Lanarkshire, which she doesn't. So there were no Red Socks for her. Sister Mhairi made it a family 1 – 2 by finishing second female.