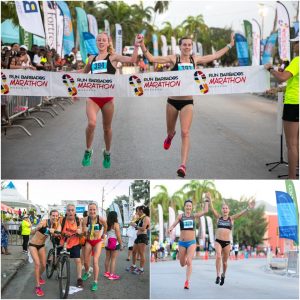 Lothian Running Club's SarahInglis recorded her second half marathon win of the year onthe exotic Caribbean island of Barbados on Sunday morning.
Inglis, who was only called into the elite Canada
Running Series squad for the Fortress Half Marathon last week, crossed the finish line hand in hand with fellow squad member Sasha Gollish.This was Sarah's fourth half marathon of 2017, in each of her previous three she had lowered her personal best. It was not to be on this occasion however with the extreme heat taking it's toll. With daytime temperatures reaching 40c in Bridgetown the race sensibly started at 5am under moonlit skies.
The two lap course which started and finished on the Bay Street Esplanade saw Inglis and Gollish break the tape in unison in a time of 1 hour 22 minutes 48 seconds, creditable given the conditions, Tanya Nero of Trinidad & Tobago was 35 seconds back in third in 1:23.23.
Sarah has now run a half marathon in four different countries this year, she kicked off back in March in Portugal in the Lisbon Half Marathon, in October she won the Victoria Half Marathon in Canada and last month finished 5th in the Monterey Bay Half Marathon in California,USA.