There was category wins and top three finishes for Lothian Running Club members in road races at the weekend. In the Lasswade 10 mile event Kyle Williamson was the leading under-20 finishing in 69 minutes 11 seconds which also placed him 43rd overall. The first blue vest finisher in 25th place was Will Moffat in 66m 38s.
LRC results were, 25th Will Moffat 66.38, 28th Ross Williamson 67.09, 43th & 1st U-20 Kyle Williamson 69.11, 57th Sandy Orr 70.39, 187th Jim Alexander 84.29, 200th Alan Weir 86.16. In the team competition in which the first three finishers from each club counts towards points Lothian finished in 4th place. Adam Gray, Penicuik Harriers was the overall race winner. 281 runners completed the course.
http://www.lasswade-ac.org.uk/club/wp-content/uploads/2019/03/Results-unscrutinised2.pdf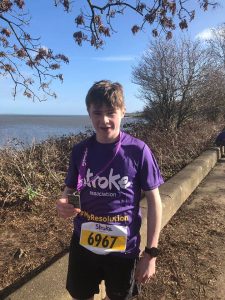 Ryan Kirkland had a fine run to win the 10k Resolution Run along the Cramond Foreshore in Edinburgh. Also beside the seaside was Shona Young, she was the club's sole representative in the 31st running of the Arbroath Footers 'Smokies' Women Only 10 mile race. This is always a popular event and this year attracted 470 runners. Shona had a good run to place 33rd overall and 3rd in the over-50 female category finishing in 1 hour 19 minutes 07 seconds, race winner was Michelle Mackay, Dundee Road Runners 1h 08m 24s.