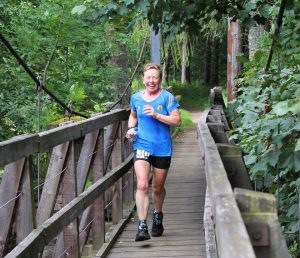 Lothian Running Club's Shona Young will have extra reason for celebrating this festive season after being announced as the overall winner of the Scottish Ultra Marathon Series[SUMS] for 2017.Shona clocked up 26marathons/ultramarathons this year and topped the Scottish rankings with a total of 1,847 points, the Lothian runner who finished runner up in 2016 was pushed all the way through the series by Iona McKay,Wee County Harriers who finished with 1,801 points with Insch Trail Runner Jennifer Rees-Jenkins in third place with a points tally of 1,749.
Runners can run any number of points scoring races, however only their top four points results count towards their final score. Shona completed her 2017 schedule last week with a first place finish in the over-50 category in the Roseberry Topping Trail Marathon at Guisborough.
Delighted with her seasons running she said:"I am thrilled to have won the series,last year I managed second female, so now that i've managed first place I think I can retire, or try at least to race a little less.
"My highlight of the year has got to be my PB at the Tokyo marathon of 3 hours 16 minutes which enabled me to get a good for age entry into the Berlin Marathon for 2018.This will be my 6th Major Marathon.
"I have also entered the Boston Marathon in April. I always wanted to return to Boston as my previous experience in 2013 was overshadowed with the two bombs that went off after I had finished the race."
When Shona completes the Berlin Marathon next year she will have then completed the full set of what is classed as the World Marathon Majors, Tokyo, Boston, London,Berlin,Chicago and New York City.