Following a frustrating summer battling back from injury Lothian Running Club's Sarah Inglis returned to winning ways with an admirable win in the Goodlife Fitness Victoria 8k/5 mile race which is part of the weekend Marathon Festival on Vancouver Island.
Inglis hinted she was getting back to top level race fitness seven days earlier with a fine 3rd place finish in the Global Energy 10k race in Rio de Janeiro, Brazil.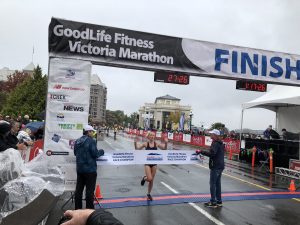 Sarah, who had won the half marathon at the corresponding meeting in Victoria the previous year was forced to run all the way to the line by her Canadian training companion  Lindsay Carson. The race takes in a scenic route through Downtown Beacon Hill before finishing along the ocean front where the Lothian runner stopped the clock at 27 minutes 27 seconds, only 2 seconds outside her pb for the distance set in the Pioneer 8k  in Saanichton back in January. This was also the quickest 5mile/8k road run by a Scot this year. Carson who had won the race for the previous four years made up a lot of ground in the closing stages but was still 5 seconds adrift when she crossed the line in 2nd place in 27.32. GB steeplechaser Nicole Roberts finished 3rd in 28.01.
Asked how the race meshed with her expectations Inglis said, "It exceeded them. Lindsay is super fit, we train together and I came in thinking if I can hang onto her I would be really happy. I never expected to beat her. Mind you, I know she was catching me in the end. It is a fun race and it was nice to run together."