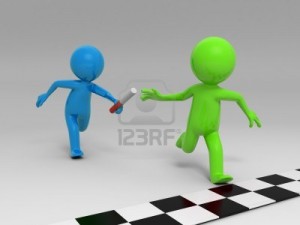 Scottish 6 & 4 Stage Road Relay Championships.
by Shane Fenton
Lothian Running Club have contested the Scottish 6 & 4 stage Road Relay Championships since 2001. During that time over 270 athletes have represented the club at the Livingston event.
In that first year, no fewer than 35 members were in action, with the men fielding four full teams and one incomplete, and the women two teams.
Five times the club have picked up silver medals, with 2006 by far the most successful year with three sets of medals won. The pinnacle of success came in 2015 when the 'History Makers' the quartet of Yvonne Crilley, Jo Williams, Edel Mooney and Sarah Inglis brought home gold on home soil.
The club ladies also won bronze medals in both the Senior and Masters Women's races in 2013.The recipients of the Senior Women's race medals was Jocelyn Moar,Chloe Cox,Sarah Inglis and Edel Mooney with Lynne Murray, Shona Young,Saran Jones and Christine MacVarish picking up the gongs in the Masters category.

In the 2006 Senior Women's race,  Helen Murray, Christine Milne, Gillian Godfree and Edel Mooney finished runner-up to the team from City of Glasgow.
The foursome of Jane Moncrieff, Saran Jones, Margaret Turnbull and Jill Horsburgh occupied the same position in the Masters Women's race behind Fife AC.
Not to be outdone the Masters Men also won silver medals thank's to Alan McIntosh, Richard Docherty, Stephen Dempsey, Donald Shaw, Alan Shanley and Murray Robertson, who found only the team from Carnegie Harriers quicker than them on the day.
 Further silver success came in 2009 with Suzanne Swan[Matonti], Mhairi Inglis, Sarah Ingis and Edel Mooney finishing runners -up in the Senior Women's race behind the team from Kilbarchean AC.
The most recent medals won were in 2018 with the foursome of Lana Turnbull, Jo Williams, Siobhan Coleman and Sarah Inglis again collecting silver.
The race consists of short legs [3.15miles] and long legs[5.8miles].
The club's record times over the short leg are held by Iain Donnan [15m 10s] in 2007 and Sarah Inglis [17m 54s] in 2009. The quickest over the long legs are Colin Meek [29m 46s] in 2002 and Sarah Inglis [32m 36s] in 2015.
The highest placed mens team was 8th in 2001 with the time of 2 hours 23minutes 29 seconds the fastest by a mens team
The womens highest finish was their 1st place in 2015 not surpring that performance brought the fastest time recorded by a female quartet at 1 hour 46 minutes 00 seconds.

Below lists everyone who has represented the club at the relays, with team finishing positions, medals won and fastest legs.

---
2019
SENIOR MENS RACE
– 28th Lothian[A] Craig Pirie 17.30, Owen Williams 35.26, Alan Knowles 17.55, Euan Rennie 3.14, Euan McInnes 18.37,Colin Partridge 34.44.Total time 2:39.27.
45th Lothian [B] Will Moffat 19.03, Kyle Williamson 37.33, Colin Wishart 20.58, Al Aitken 36.01, Ross Williamson 19.29, Ian Cameron 37.47. Total time 2:53.01.
Lothian [c] Incomplete team, Duane Kellock 20.53, Sandy Orr 37.58, Ian Leggett 31.23, Al Murray 40.31.
MENS OVER-50– 6th Lothian[D] Stewart Laing 19.12, Mick Kennish-Ward 37.60, Dougie Hunter 21.26, Scott Nelson 38.51. Total time 1:58.16.
10th Lothian [D] Martin Leadbetter 24.33, Alan Weir 43.14, Stig Walsh 23.48, Jim Alexander 45.19.
SENIOR WOMEN–
12th Lothian [A] Andrea Cameron 21.46, Jo Williams 34.07, Mhairi Inglis 19.59, Christine MacVarish 39.41. Total time 1:55.59.
Individual leg, Andrea Seabrook 23.54.
———————————————————————
2018
SENIOR WOMEN
Ladies A – 2nd Lana Turnbull 20:37, Jo Williams 34:39, Siobhan Coleman 19:12, Sarah Inglis 33:32. [1:48:00].
Ladies B – 12th Yvonne Crilley 20:20, Mel Zobel 40:40, Emma Jackson 19:50, Christine MacVarish 40:47. [2:01:37].
SENIOR MEN
Men's A – 42nd Bill Moffat 19:52, Owen Williams 34:30, Peter West 22:17,Ryan Ferguson 40:27, Robbie Kennedy 16:34, Martin Leadbetter 45:20. [2:59:00].
Men's B (V40) – 5th V40, 22nd overall Barry McComish 18:23, Malcolm Lang 33:09, Euan McInnes 18:49,Alan Knowles 34:35, Craig Pirie 18:01, Colin Partridge 35:05. [2:38:02].
Men's C (V50) – 9th Brian Lees 20:00, Kenton Jones 40:10, Harry Mulholland22:09, Scott Nelson 39:58 [2:02:17].
——————————————————————–
2017
SENIOR WOMEN

4th Siobhan Coleman 18.52, Mel Zobel 38.27, Mhairi Inglis 19.25,Sarah Inglis 33.15. Total time 1h 49m 59s.
Incomplete team – Jo Williams 22.39, Christine MacVarish 40.19, Kirsty McMeechan 26.43.
 SENIOR MEN

22nd Euan McInnes 18.33, Malcolm Lang 32.17, Alan Knowles 18.16, Colin Partridge 33.17, Owen Williams 33.17, Josh Dack 31.50. Total time 2h 34m 34s.
47th Pol McDonald 20.42,Scott Nelson 37.10, Calum Ross 21.15, William Moffat 38.13, Stephen Malcolm 22.22,Neil Graham 42.39.Total time 3h 02m 21s.
Incomplete team – Stig Walsh 23.43, Martin Leadbetter 42.35.
_______________________________________________
2016
SENIOR WOMEN
Women[A] 10 Lana Turnbull[19.29],Christine MacVarish[41.09],Mel Zobel[21.39],Edel Mooney[35.34]. Total time:[1:57.51].
Women[B] 26 Cara McCafferty[25.21],Linda Garrity[42.42],Bethany Nelson[27.17],Kirsty McMeechan[51.07].Total time:[2:26.27].
SENIOR MEN
Men's[A]Alan Knowles[19.10],Josh Dack[33.09],Euan McInnes[18.41],Malcolm Lang[33.23],Owen Williams[18.05],Colin Partridge[33.09].Total time:2:35.37].
Men's[B M40] Calum Ross[21.14],Scott Nelson[36.52],Stephen Malcolm[22.42],Pol McDonald[37.34],Jim Alexander[22.37],Paul Young[39.24].Total time:[3:00.23].
Men's[C Incomplete],Stig Walsh[23.52],Martin Leadbetter[46.10].
_______________________________________________
2015
 Senior Women:
Lothian [a] 1st – Leg 1 Yvonne Crilley[20.08],Leg 2 Edel Mooney[34.55],Leg 3 Jo Williams[18.50], Leg 4 Sarah Inglis[32.36]. Total time-1:46.29.
Lothian[b13th – Lana Turnbull[20.52],Jocelyn Moar[38.00],Mhairi Inglis[21.23],Christie Milne[40.31]2:00.46].
Lothian[c] incomplete, Kirsty McMeechan[27.34],Christine MacVarish[36.02]. 29 full teams ran.
Senior Men:
Lothian[a]24th – Malcolm Lang[17.44],Daniel McLughlin[35.36],Alan Moffat[19.05],Andrew King[35.16], Pol McDonald[19.49],Colin Partridge[33.49].Total time:2:41.19.
Lothian[b]46th – Neil Graham[22.10],Colin Wishart[43.43],Calum Ross[21.24],Scott Nelson[37.54],Martin Leadbetter[23.07],Finlay Slane[40.06].Total time;3:01.06]. 48 full teams ran.
________________________________________________
2014
OPEN MEN'S RACE
12th John Malcolm[18.21], Max McNeil[30.36], Owen Williams[18.34], Malcolm Lang[33.55], Daniel McLaughlin[18.25], Colin Partridge[33.26] Total 2h 33m 17s.
28th Alan Moffat[19 26], Donald Shaw[35.51], David Berrill[19.12], Scott Nelson[39.07], Pol McDonald[20.22],Neil Graham[40.37]. Total 2h 54m 35s.
38th [Over-40s] Jim Alexander[21.45], Calum Ross[41.18], Ian Hall[24.18], Paul Young[39.04], Ted Finch[25.53], Kenny Mearns[44.11] Total 3h 16m 27s.
 OVER 50 MENS CHAMPIONSHIP
5th Harry Mulholland[20.03], Graeme Ackland[36.33], Martin Leadbetter[22.08], Kenton Jones[37.38]. Total 1h 56m 22s
OPEN WOMEN'S RACE
8th Lana Turnbull[20.20], Jocelyn Moar[39.03], Christine MacVarish[20.52], Edel Mooney[34.33]. Total 1h 54m 48s.
29th Suzie Hannah[20. 53], Shona Young[42.44], Mhairi Inglis [21.11], Margaret Turnbull[57.59]. Total 2h 22m 47s.

OVER 50 WOMENS CHAMPIONSHIP
2nd Saran Jones[22.05], Lynne Murray[41.47], Jill Horsburgh[25.08]. Total 1h 29m 00s.
___________________________________________

2013
SENIOR WOMEN
[A TEAM]3rd – Jocelyn Moar[20m 48s],Chloe Cox[35.27],Sarah Inglis[18.04],Edel Mooney[34.04], Total time 1h 50m 26s.
[B TEAM] 13th & 3rdVet] – Lynne Murray[21. 38], Shona Young [43.24],Saran Jo[21.40],Christine McVarish[40.20].Total time 2h 07m 02s].
[C TEAM] Lana Turnbull[21.04], Jo Hall[37 30].
23 full teams completed.
SENIOR MEN
[A TEAM]16th – Max McNeil[16.19],Colin Partridge [32.53], Stephen Malcolm[18.48], Scott Nelson [36.09], Alan Moffat[19.49],Donald Shand[37.56]. Total time 2h 41m 54s].26.01]. Total time 3h 11m 27s]
[B TEAM] 30th – Chris Northam[20.53], Peter West [40,45],Ian Leggett [24.43], Jim Alexander[42.31],Cliff Dicker[24.09],Paul Young[26.01].
---
 2012
MEN[A] 32nd:John Malcolm-Max McNeil-Colin Partridge-Scott Nelson- Alan McIntosh, Steven Laurie.
INCOMPLETE: Ian Leggett-Gerry McCafferty-Ewart Scott-Chris Northam-David Berrill.
WOMEN[A] 8th: Lana Turnbull-Sarah Inglis-Leanne Webster-Suzie Hannah.
[B] 25th: Christine Milne-Shona Young-Margaret Turnbull-Jill Horsburgh.
---
 2011
MEN[A] 13th: Robert Inglis-Max McNeil-Ali Robertson-Colin Partridge-Kenton Jones-Scott Nelson.
[B]38th: Ian Leggett-David Berrill-Alec Agnew-Alan McIntosh-Kenny Mearns-Harry Mulholland.
WOMEN[A]6th:Mhairi Inglis-Edel Mooney-Jocelyn Moar-Lynne Murray.
[B]25th Saran Jones-Jill Horsburgh-Leanne Webster-Suzie Hannah
---
 2010
MEN[A]27th: Robert Inglis-Scott Nelson-Ali Robertson-Darren Thomson-Joe Robertson-Alan McIntosh.
[B]43rd:Peter West-Harry Mulholland-Steve Dempsey-John Malcolm-Steven Laurie-Robin Morris.
WOMEN[B]7th:Chloe Cox-Jocelyn Moar-Louise Crilley-Edel Mooney.
[A]13th: Yvonne Crilley-Jill Horsburgh-Christine Milne-Lynne Murray.
---
 2009
MEN[A]27th:Kenton Jones-Brian Turner-David Bell-Steven Laurie-Robert Inglis-Harry Mulholland.
[B]49th:Alec Agnew-Robin Morris-John Ewing-Steve Dempsey-Neal Drummond-John Pickard.
[C] 50th: Chris Rumbles-John Malcolm-Jim Salvage-Ted Finch-Mark Kassyk-Jim Alexander.
WOMEN[A] 2nd:Mhairi Inglis-Suzanne Swan-Sarah Inglis-Edel Mooney.
[B]15th:Louise Crilley-Marie Storrie-Yvonne Crilley-Lynne Murray.
Incomplete:Margaret Turnbull-Rosemary Ewing.
---
 2008
MEN[A]28th:Darren Thomson-Robin Galloway-Harry Mulholland-Steven Laurie-Alan McIntosh-Scott Nelson.
[C]46th:Ian Hall-Brian Welsh-JohnEwing-Kenton Jones-Jim Salvage-Jim Alexander.
[C]47th:Peter Weeks-Mike Lieberman-Richard Docherty-Mark Kassyk-Alec Agnew-Peter West.
WOMEN[A]10th:Suzanne Swan-Margo Welsh-Laura Sarkis-Edel Mooney.
[C] 23rd:Christine Milne-Lucy Galloway-Carol Mabon-Jill Horsburgh.
[B]28th:Yvonne Crilley-Rosemary Ewing-Sue McDowell-Susan Bruce.
---
 2007
MEN[A]28th:Richard Docherty-Graeme Ackland-Steven Lauri-Harry Mulholland-Iain Donnan-John Ewing.
[B] 46th:Jim Salvage-Mike Lieberman-Alec Agnew-Brian Welsh-Peter Weeks-Hugh Murray.
[C]50th:Ted Finch-Alan McIntosh-Mark Kassyk-Brian Stewart-David Mabon-Jim Alexander.
WOMEN[A]6th:Helen Murray-Christine Milne-Sharon Skivington-Edel Mooney.
[B]27th:Margaret Turnbull-Laura Sarkis-Carol-Rosemary Ewing.
---
 2006
MEN[A]2nd:Alan McIntosh-Richard Docherty-Steve Dempsey-Donald Shaw-Alan Shanley-Murray Robertson.
[B]40th:Peter West-Lachie Wallace-Hugh Millar-Brian Stewart-Richard Moir-Fraser Kingscott.
Incomplete:Alec Agnew-Mike Lieberman-Jim Salvage-David Simmons.
WOMEN[A]2nd:Helen Murray-Christine Milne-Gillian Godfree-Edel Mooney.
[B] 16th:Suzanne Swan-Joyce Salvona-MarsieEwing-Val Dempsey.
[C]20th:Jane Moncrieff-Saran Jones-Margaret Turnbull-Jill Horsburgh.
---
 2005
MEN[A] 23rd:Richard Docherty-Donald Shaw-Harry Mulholland-Ross Milne-Alan McIntosh-Steve Cottom.
[B]39th:John Ewing-Hugh Millar-Steve Dempsey-Alec Agnew-Jim Salvage-Mike Lieberman.
WOMEN[Incomplete]:Saran Jones-Margo Welsh-Marsie Ewing.
---
 2004
MEN[A]17th:Steven Laurie-Andreas Merdis-Donald Shaw-Brian Turner-Harry Mulholland-Steve Cottom.
[B]32nd:Alan Shanley-David Simmons-Alec Agnew-Peter West-Murray Robertson-Alan McIntosh.
WOMEN[A]6th:Laura Sarkis-Christine Milne-Teresa McMenemy-Helen Murray.
---
 2003
MEN[A]11th:Brian Turner-Colin Meek-George Gilhooley-Graeme Ackland-Andreas Merdis-David Simmons.
[C]39th:John Ewing-Graham McIntyre-Steve Dempsey-Harry Mulholland-Calvin Crane-Robin Galloway.
[B]43rd:Mike Lieberman-Robin Morris-Alec Agnew-Martin Leadbitter-Steven Laurie-Chris Northam.
[D]46th:Peter West-Scott Balfour-Kenton Jones-Jim Alexander-Steven Cunningham-Peter Weeks.
WOMEN[A]7th:Helen Murray-Joyce Salvona-Teresa McMenemy-Marsie Ewing.
[B]12th:Jane Moncrieff-Val Dempsey-Morag McIntyre-Kate Kitchen.
---
2002
MEN[A]13th:George Gilhooley-Colin Meek-Steven Cunningham-Brian Turner-Steve Dempsey-David Simmons.
[B]32nd:Alec Agnew-Harry Mulholland-Ian Seggie-David Bell-Murray Robertson-Alan Shanley.
[C]34th:Peter Weeks-Chris Northam-Mike Lieberman-Jim Alexander-Peter West-Alan Grierson.
WOMEN[A]7th:Jane Moncrieff-MagsTurnbull-Delia Leddy-Margo Welsh.
[B]8th:Claire Shanley-Marsie Ewing-Annette Cunningham-Lesley McGiffen.
---
2001
MEN[A]8th:Murray Robertson-Colin Meek-Graeme Ackland-Andreas Merdis-Tim Brand-Peter Dymoke.
[B]37th:Harry Mulholland-Tim Lenton-John Paxton-Jonny May-Calvin Crane-Ian Leggett.
[C]38th:Philip Northam-David Simmons-Mike Lieberman-John Beech-John EWing-Ian Seggie.
[D]41st:Peter West-Brian Turner-Alistair Hindle-Martin Leadbitter-Alan Grierson-Philip Northam
Incomplete:Alec Agnew-Cliff Acklam-Jim Alexander.
WOMEN[A]9th:Marsie Ewing-Suzie Campbell-Fiona Weir-Gillian McFarlane.
[B]12th:Claire Shanley-Teresa McMenemy-Delia Leddy-Lesley McGiffen.
---
FASTEST TIMES
MEN[SHORT LEG]
Iain Donnan[15m 10s in 2007].
MEN[LONG LEG]
Colin Meek [29m 46s in 2002].
WOMEN[SHORT LEG]
Sarah Inglis [17m 54s in 2009].
WOMEN[LONG LEG]
Sarah Inglis [32m 15s in 20015].
OVERALL TEAM
Men [2h 23m 52s in 2001]
Women [1h 46m 29s s in 2015]
MEDALS
GOLD
Senior Women [2015]
SILVER
Senior Women [2006 & 2009 & 2018]
Masters Women[2006]
Masters Men[2006]
BRONZE
Senior Women[2013]
Masters Women 2013]
(And lets not forget all the hard work done by the club in hosting the event over the years setting out the course originally designed by Martin Hyman,)