Lothian Running Club ladies team were in celebratory mood at the weekend after picking up silver medals in two major championships.
Almost 500 athletes representing clubs from all over Scotland gathered in Livingston on Sunday for the annual Scottish Men's six stage and Women's four stage Road Relay Championships.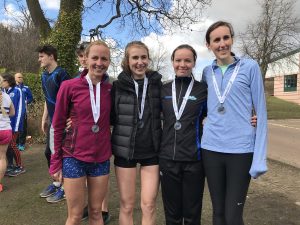 Team members run alternate short[3.1 miles] and long[6 miles]legs.
The Lothian club fielded two teams in the women's race and three in the men's and not for the first time it was the ladies who excelled to grab the headlines.
The blue vests were led off by Lana Turnbull who in the next few weeks will take part in her 200th parkrun, she handed over in 16th place to second runner Jo Williams for the first of the long stages, less than 24 hours earlier Jo had helped Scotland to silver medals at the Home Countries XC Championships in Nottingham. The previous days exertions had little effect as Jo swiftly moved through the field and handed over to third runner Siobhan Coleman in 5th place.
Siobhan who made her debut for LRC in this event 12 months ago has an excellent record on the roads with a string of Scottish age-group titles to her name, albeit the last of them was 9 years ago. However, on a day when everyone was turning the clock forward she turned it back with an excellent run over the short course and hoisted the team up to 3rd place before handing the baton over to Sarah Inglis to run the anchor leg.
Sarah who has had an excellent winter on the roads in Canada only arrived back in Scotland three days before the race. Showing no signs of jet-lag she powered round a course she knows well and brought the team home in 2nd place and silver medals with only the quartet from Fife AC finishing ahead of them. Sarah also recorded the 2nd quickest long leg of the day just a second behind Fife AC's Steph Pennycook. Jo's time was the 4th fastest of the day among the long legs. This was the fifth time the LRC ladies team have won medals at these championships. Sarah now joins Edel Mooney on having won four medals for the club following silver in 2009,bronze in 2013 and gold in 2015.
The Lothian club's Masters Men's team have had a good season in xc events and they transferred that to the road with a fine 5th place finish. The team from Corstorphine AAC took the Men's title.
Full LRC results
Ladies A – 2nd Lana Turnbull 20:37, Jo Williams 34:39, Siobhan Coleman 19:12, Sarah Inglis 33:32. [1:48:00].
Ladies B – 12th Yvonne Crilley 20:20, Mel Zobel 40:40, Emma Jackson 19:50, Christine MacVarish 40:47. [2:01:37].
Men's A – 42nd Bill Moffat 19:52, Owen Williams 34:30, Peter West 22:17,Ryan Ferguson 40:27, Robbie Kennedy 16:34, Martin Leadbetter 45:20. [2:59:00].
Men's B (V40) – 5th V40, 22nd overall Barry McComish 18:23, Malcolm Lang 33:09, Euan McInnes 18:49,Alan Knowles 34:35, Craig Pirie 18:01, Colin Partridge 35:05. [2:38:02].
Men's C (V50) – 9th Brian Lees 20:00, Kenton Jones 40:10, Harry Mulholland22:09, Scott Nelson 39:58 [2:02:17].
SHANE FENTON
Full results
MEDALS WON BY LRC LADIES AT NATIONAL 4 STAGE RELAYS

2006:[Silver]Helen Murray-Christine Milne-Gillian Godfrey-Edel Mooney.
2009:[Silver]Mhairi Inglis-Suzanne Swan-Sarah Inglis-Edel Mooney.
2013:[Bronze]Jocelyn Moar-Chloe Cox-Sarah Inglis-Edel Mooney.
2015:[Gold]Yvonne Crilley-Edel Mooney-Jo Williams-Sarah Inglis.
2018:[Silver]Lana Turnbull-Jo Williams-Siobhan Coleman-Sarah Inglis.