SARAH RETAINS TITLE IN BARBADOS
Sarah Inglis retained her half-marathon title at the Run Barbados Marathon Weekend where over the 3 days she also won the mile and finished runner up in the 10k.
Inglis ended her successful year on a high by completing a hat-trick in the 13.1-mile event on Sunday, adding her win in 82:16 to her joint victory in 2017 and her 2018 triumph.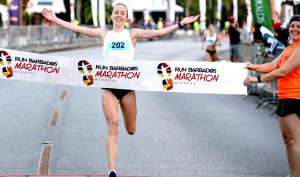 She also won the women's mile on Friday evening in 5:01 and clocked 36:20 when finishing second in the 10km on Saturday during the three-day festival of running on the eastern Caribbean island.
The women's 10km was won by Canada's Natasha Wodak as she claimed the title for the fourth year in a row in 36:09 and was also second in both the mile in 5:06 and half-marathon in 82:20.
"I'm really happy. Tired, but really happy!" said Inglis, who is based in Canada and has improved across the board in 2019 with PBs in events ranging from 4:11.51 for 1500m up to 72:23 for the half-marathon. "The race went really well and I finished strong so it was really good.
"This is the fastest time I've done out of the three years I've been here. I'm just excited that because the prize is a return trip, I can come back here next year!"