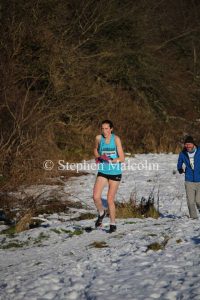 Lothian Running Club's Jo Williams followed up her good run from the previous week at Holyrood Park when she helped East District to the women's title in the Inter District Championship by leading home 116 runners to win the Senior Women's race in the final East District Cross Country League match of the winter at Broxburn on Saturday.
Williams mastered the snowy underfoot conditions covering the 5.4k course in 21 minutes 39 seconds, 20 seconds further back in second was Catriona Buchanan, Central AC with Edinburgh Uni's Anna McFadyen in third.
Yvonne Crilley was the only other LRC member in the race finishing 52nd and 16th over-35 in 26.33.
The Lothian club's Masters Men's team have had an excellent season in cross country events and that continued at Broxburn where they finished 2nd overall, a position they also occupied in the overall league standings for the season. Only the team from Corstorphine bettered them.
LRC Results
SENIOR MEN:49 Martin Lang 31,30,  53 Robbie Kennedy 31.40, 68 Owen Williams 32.41, 70 J Dick 32.51, 75 Colin Partridge 32.59, 76 Alan Knowles 32.59, 98 Barry McComish 34.56 ,122 David Eades 36.11, 148 Brian Lees 37.41, 205 Calum Ross 41.14, 206 Harry Mulholland 41.26, 232 Al Murray 44.15. 262 Finished.
Team:7th of 32, overall 11th of 29. Masters:2nd of 28, overall 2nd of 17.
SENIOR WOMEN:1Jo Williams 21.39, 52 Yvonne Crilley. 116 Finished.
Team, overall 12th of 21.
UNDER-11 GIRLS: 52 Eilidh Turner 7.47.62 Finished.
UNDER-15 GIRLS: 28 Hannah Steel 19.24.55 Finished.
Full results;http://www.thepowerof10.info/results/results.aspx?meetingid=215951&pagenum=3