There was an equally impressive 800 metres run by club junior Hannah Steel in the third match of the Scottish Athletics Indoor League. Her time of 2m 26.99 seconds was almost 5 seconds quicker than her previous best of 2:31.15. Hannah placed 2nd in both the heat and overall with her time moving her up to 4th in the Scottish under-15 rankings.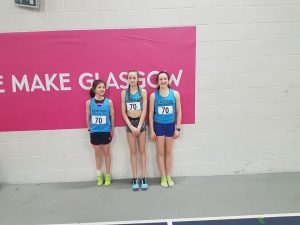 LRC results from the meeting were.
Robyn McDonald:200 metres-2nd in heat and 6th overall in 29.55, 60 metres-8th in 8.88s. Long Jump-14th with a jump of 4.14m
Eilidh Howard:200 metres-3rd in heat and 14th overall in 33.81s,800 metres-3:02.37.
Hannah Steel:800 metres -2nd in heat and 2nd overall in 2:26.99PB, 300 metres 1st in heat and 2nd overall in 46.40sPB.