RELAY MEDALS FOR LRC LADY VETS
Record breaking numbers contested the opening cross country meeting of the season the East District Relay Championship held in Livingston and hosted by Lothian Running Club.With 53 teams in the Women's event and 72 teams finishing the Men's event it was a record for the East District relays.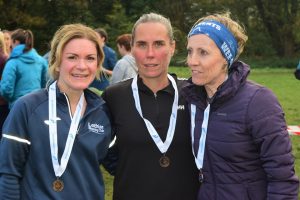 Top performers for the host club were the senior ladies who picked up bronze medals in the Women's veteran category with the trio of Yvonne Crilley, Christine MacVarish and Andrea Cameron coming home in third place behind the teams from Hunters Bog Trotters and Fife AC. In total LRC fielded 8 teams, five in the Men's and 3 in the Women's and one in the Junior Boys.
The first of the Lothian quartet to finish in 27th place were the 'a' team of Sam McIntosh, Robbie Kennedy, Ryan Kirkland and Josh Dack. Jonathan Collings, Sorley McDonald and Murray Close finished 33rd in the Junior Boy's race.
The Senior Men's and Women's titles were won by Edinburgh Uni Hares & Hounds and Fife AC respectively.
LRC results.
JUNIOR BOYS
33rd Jonathan Collings[10.16], Sorley McDonald[13.35], Murray Close [9.20].
SENIOR WOMEN
24th & 3rd FV Yvonne Crilley [17.53], Christine MacVarish [17.53], Andrea Cameron [18.27]. Total time-54.13.
50th Teresa Lynch [21.54], Claire Cunningham [23.56], Andrea Seabrook [20.27]. Total time-66.17.
51st Kirsty Gray [22.48],Dawn Watson [22.48], Judith Thomson [21,57].Total time-67.14.
SENIOR MEN
27th Sam McIntosh [15.29], Robbie Kennedy [14.17], Ryan Kirkland [14.54], Josh Dack [14.55].Total time – 59.35.
42nd & 7thMV Ross Williamson [16.10], Euan McInnes [15.20], Barry McComish [16.08], James Beattie [15.27].Total time-63.05.
59th & 14th MV Scott Nelson [18.23], Andrew Corrigan [17.50], Kenton Jones [17.28], George Gilhooley [17.36].Total time-1:11.17.
62nd Kyle Williamson [16.38], David Meek [24.17], Gavin Mackay [15.39], Owen Williams [16.12].Total time- 1:12.46.
70th Kenny Mearns [20.23], Martin Leadbetter [20.16], Stig Walsh [20.53], Ewart Scott [20.33].Total time-1:22.05.